Get Involved!
Beginning June 1st, we will begin accepting volunteers back into the cafe. We are dedicated to providing a healthy, safe environment for our community workers, diners and staff. In this first stage of reopening to indoor dining we will require our volunteers to be vaccinated. Thank you for your support and we look forward to having our volunteers back in action with us!
---
F.A.R.M. Cafe relies on a 90% volunteer staff to feed our community. You can "Pay it Forward" by assisting the F.A.R.M. Cafe staff to "Feed All Regardless of Means." We offer volunteer opportunities from 9:30 to 3:30 Monday through Friday and every Saturday volunteers help Full Circle staff to prep and cook food in our food recovery program.
Requirements for Volunteers
We will provide a hat, gloves and an apron for all volunteers. You are welcome to bring your own if you'd like, but it is not necessary. Please wear closed-toed shoes and be able to pull long hair back. Please do not wear excessively short/ripped clothing, and no tank tops. Since you will be around food, please let a staff member know if you have a severe food allergy! Our shifts are an hour long each, and will require standing for the duration of that time. Please let a staff member know if you need any accommodations!
Additionally, please read over our Health Policy and Dress Code.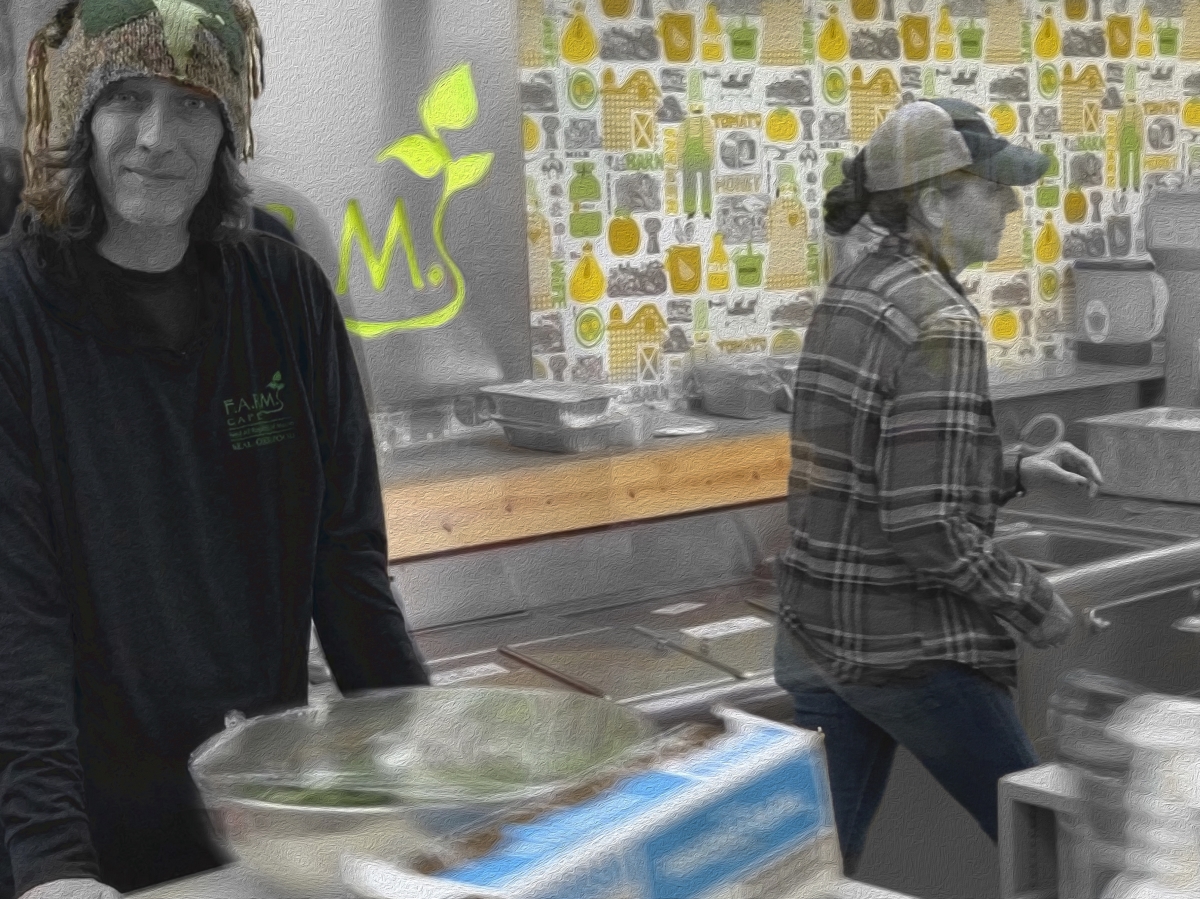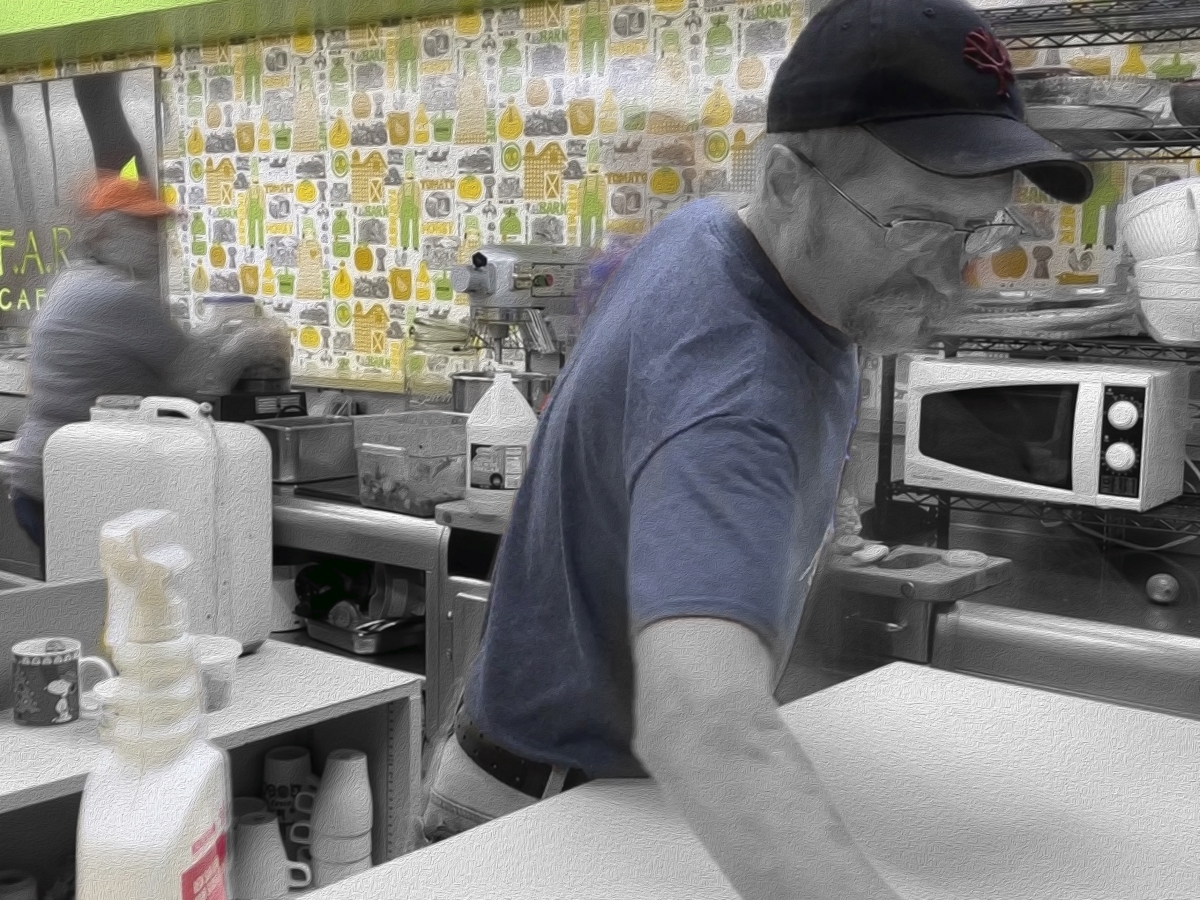 Daily Set-Up (9:30-10:30): Assist staff in preparing the Cafe for service. Can include taking down chairs, light cleaning, writing our menu boards, minimal food preparation.
Server (11am-2pm): Serving our daily meal on the buffet line to our patrons and making sure the kitchen is notified when running low on food. Maintain a clean work environment and replenish plates and bowls as needed.
Greeter (11am-2pm): Greet patrons as they come in the Cafe and share the menu. Be able to properly explain the mission, concept, and workings of the Cafe. We ask that first-time volunteers do not greet, as greeters need experience with the Cafe.
Dishwasher (10am-3:30pm): Washing, drying, and putting away plates, bowls, cups, and various kitchen equipment. Make sure bus pans are being brought back to the dish room as they fill.
Breakdown Crew (2pm-3:30): Helping Cafe clean up after service. Can include duties such as sweeping, mopping, wiping down counters, taking out trash, etc.
Prep Cook (9am-2pm): Helping kitchen prep food for the day's meal as well as future prep. Volunteers must have prior kitchen experience and be familiar with the Cafe.
Cafe Deep Cleaning (2:30-3:30): Cleaning throughout the Cafe, especially places that may have been overlooked! Can include reorganizing shelves, light cleaning, folding laundry, etc.
Exchanging a Meal
If you are in need of a meal and would like to exchange an hour of your time, please let one of our staff members know. We will gladly provide volunteer opportunities for all abilities such as folding laundry cleaning bathrooms, rolling silverware, etc.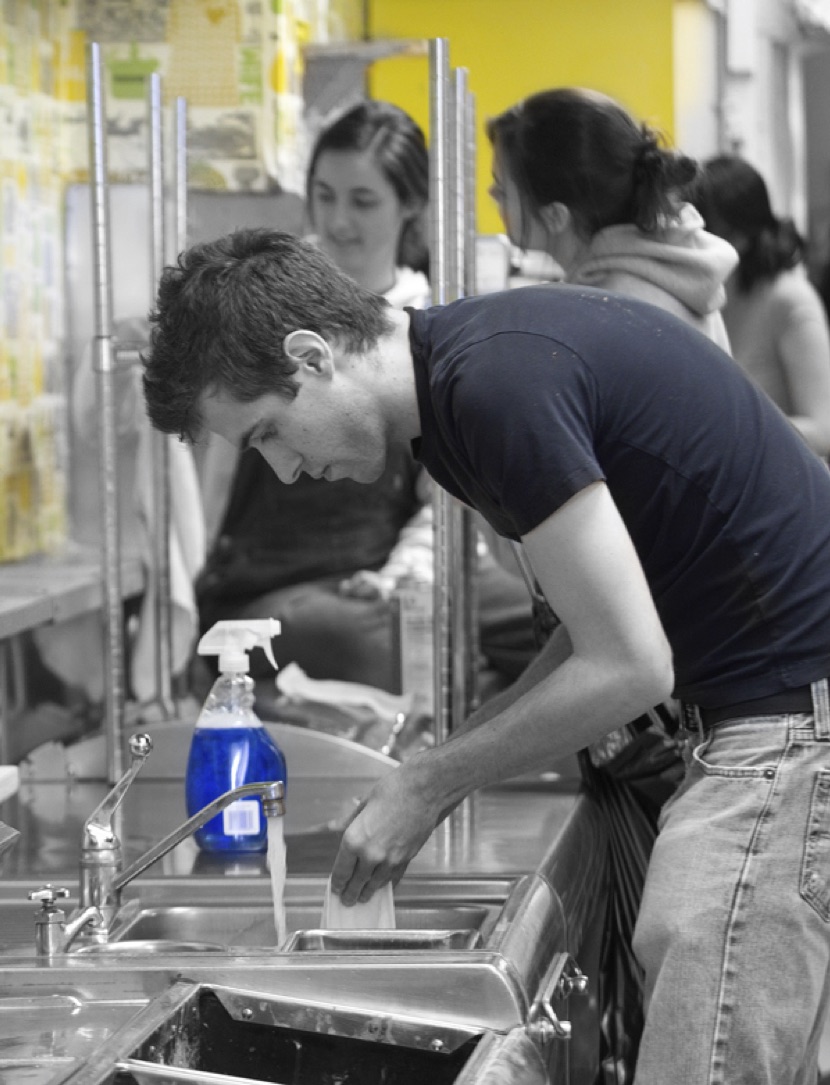 Interning
F.A.R.M. Cafe and Full Circle have opportunities for all interests! We are able to accommodate different majors and interests, working with interns to create the most valuable learning experience for all involved. Potential interns can gain experience in:
Nonprofit Management
Community Development and Outreach
Food Production and Safety
Nutrition
Volunteer Management and Coordination
Sustainability
Communications
We are available to host Fall, Spring, and Summer interns depending on availability. We ask that all potential interns become familiar with Cafe operations and volunteer as frequently as possible. If interested, please email volunteer@farmcafe.org with your resume and potential schedule.